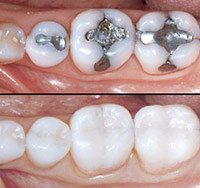 Are you feeling refreshed and rejuvenated after the holiday break? Well the chances are, your teeth are feeling quite the opposite!
 Fillings are one of the most common dental treatments to exist. Dental  fillings can be amalgam (silver) or composite (tooth coloured). Either  type of dental filling can chip or crack over time.  
A fantastic way to kick-start your new year and better your health, is to book in an appointment for a check-up and clean with the dental hygienist. Our lovely Leanne specialises in thoroughly cleaning between your teeth in all those nooks your toothbrush can't reach.
She also provides prophylaxis polishing which can help remove stains and brighten your smile. A thorough examination is done, of all your teeth and between your teeth. This way we can note any sticky spots or dark areas which may be cavities.
All cavities will need dental fillings – and the sooner the better.
Cavities can worsen rapidly, and small dental fillings are much easier and less costly, where as large dental fillings for deep cavities are more complicated. It's important to find cavities as early as possible – hence the need for six monthly check up and cleans. There may be no visible signs of a cavity so you may not see it yourself.
If you have noticed any sensitivity to hot or cold, any aches, pains or discomfort, or a sharp edge on a tooth, you may have a cavity or a chipped tooth. It's important to resolve these issues before they worsen. So if you have held off until we reopened, don't delay any longer!
Book in and have a thorough examination by one of our skilled dentists, to determine the health of your teeth and gums. Cavities can form and worsen very quickly – so don't delay. Vivid Dental uses state of the art equipment and materials to ensure your dental fillings are durable, comfortable, and undetectable.