Dental Implants
Losing teeth can feel terrifying and frustrating.  At Vivid Dental, we focus on preventative dental treatment. Keeping as many natural teeth as possible is something we want for all patients. However we understand that sometimes losing teeth is unavoidable. Most patients are considering dental implants to replace teeth that have been degraded or lost during the ageing process, or because of a severe trauma or knock to the tooth.
In the event of this, eligible patients can elect to have dental implants. It's a big decision to make and we understand how daunting it can be to know where to start. It's important to understand that implants are not suitable for everyone. Having successful dental implants requires healthy gums and bone structure. Patients with severe gum disease, periodontitis or bone loss may not be eligible for dental implants.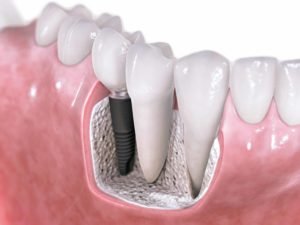 In the event that  implants are not a suitable treatment option for you, we will gladly find an alternative solution that is perfect for you. If dental implants are suitable for you, we will take you through every step, ensuring you feel understood and comfortable.
Dental implants are a lengthy process from start to finish. Initially, if a broken or problematic tooth is there, it will be removed. Once the site has healed completely, the jaw bone is prepared for the implant. After the jaw bone is adequately prepared, the implant can be fitted into the bone. This process requires immaculate healing and is generally a few months between stages.
The implant is screwed into the jaw bone, creating a "root" for the crown to be secured. The crown is tailor made to be a perfect match to your natural teeth in shade and anatomy, making your implant undetectable. It is then fixed to the implanted root, making it the most secure replacement for a missing tooth.
The cost of dental implants can vary significantly case by case. Cost is affected by which particular tooth is being replaced, and the number of teeth being replaced. After an initial consultation, a comprehensive treatment plan will be issued to you outlining all the steps and costs involved, so that you can make an informed decision.
Are Dental Implants Right For Me?
There are three main situations we see most commonly that lead people to having dental implants.
Missing a single tooth: Whether it's a highly visible front tooth, or a back tooth you need for chewing and eating, implants are the most secure and life-like replacement option for a missing tooth.
Missing multiple teeth: If you're missing a number of teeth, you may not require dental implants for every missing tooth. There are treatment options that can replace your missing teeth without necessarily needing to fit an implant into every gap.
Denture patients: Having full or partial dentures can significantly impact your lifestyle when it comes to enjoying food. Your dentures may not feel secure or may move, which can be not only uncomfortable, but nerve racking in social situations. Having a couple of implants can anchor your dentures, so they fit more securely.
For patients considering dental implants, dental health and oral hygiene is paramount. The best way to ensure you are eligible for implants is to maintain a high standard of oral hygiene and have regular check up and clean appointments, to ensure your gums are healthy. Diligent home oral care is really important, so be sure to brush and floss everyday.
If you are considering dental implants, the first step is to book in for a consultation. Our team of caring dentists can discuss the procedure with you, outlining the costs, benefits and time frame of your case.