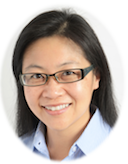 Theresa is an experienced dentist who graduated at the University of the Witwatersrand (1997) in Johannesburg. Her achievements include the Millner's/PG Smith Award for Anatomy, the Sanlam Award for Physiology, the Dental Technician's Council Medal for Prosthetic Dentistry and the Community Dentistry Award.
After graduating, Theresa worked in private practice in Johannesburg for two years and with a keen interest to further her education obtained a postgraduate diploma in advanced clinical dentistry at the University of Stellenbosch.
Theresa then relocated to the United Kingdom where she joined a modern private practice for the next eleven years. During this period she worked closely with a team of specialists in a multidisciplinary practice and gained invaluable experience in minor oral surgery, preventative and conservative dentistry, crown and bridgework, and cosmetic dentistry.
Theresa enjoys all aspects of clinical dentistry and is always committed to providing quality dental treatment. She has a friendly and caring nature and a very gentle approach to treating all her patients.
In her spare time, Theresa enjoys travel, drawing and baking. However, over the last few years, she devotes most of her time to her two delightful little girls.