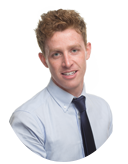 Ed graduated in 2010 with Honours from Trinity College Dublin, Ireland. He then moved to England to further his education with the Bristol Southwest Deanery whilst working in a busy NHS practice in Cornwall. Here he passed his membership exams for the Royal College of Surgeons Edinburgh.
Upon moving to Australia in August 2011, Ed spent a year at the Royal Dental Hospital of Melbourne working in primary care. He gained valuable experience providing care to paediatric and special needs patients under General Anaesthetic in conjunction with the specialist Oral surgeons and Paediatric consultants. He then moved into full time private practice in Geelong whilst continuing his hospital work.
Ed has wide and varied interest in general dentistry, his interests include, prosthodontics and aesthetic dentistry. His goal is to provide quality appropriate dental services. He is a member of the Australian Society of Implant Dentistry. He is passionate about continuous professional development and regularly seeks out a varied selection of courses to stay at the forefront of all areas of modern dentistry.
Outside of work Ed is a keen sportsman. His main pursuits now are surfing and golf. He is a member at Castlehill Country Club. He has played Gaelic football and soccer at underage and senior level for many years and enjoys open water competitive swimming.