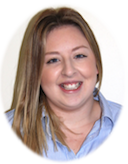 Kirstie's friendly face is the first you will see when attending our practice. Kirstie joined the team at Vivid Dental in mid 2014 after working as a Dental Assistant for 3 years.
Kirstie is passionate about providing the best possible customer care for all of our patients. She has completed Certificate III in Dental Assisting and Certificate IV in Dental Radiography as well as many other short courses.
Kirstie grew up on the NSW Central Coast of NSW and now lives in Sydney. In her spare time she enjoys reading, relaxing and spending quality time with her husband, friends and family.