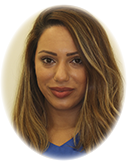 Nilly has recently moved to Sydney from Adelaide to start her career as a dental assistant. She loves exploring Sydney and trying different cuisines.
??Nilly has a bubbly personality and loves interacting with others and being a dental assistant gives her an opportunity to meet new people everyday.
??Outside of work Nilly enjoys going for walks at the beach, spending time with friends and family and visiting the RSPCA as she has a love for animals. She has a bearded dragon named Rango which she adores.