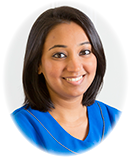 Roopa graduated with a Bachelor of Dental Surgery in India after which she moved to Australia to live with her husband.
Roopa is a strong supporter of Organ donation. She is an avid reader, enjoys cooking and loves spending time with family and friends. Having recently moved to Australia, Roopa loves exploring new places and cuisines.
Roopa loves welcoming patients with an assuring smile and making them comfortable throughout their visit.