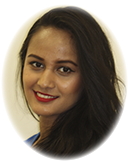 Samikshya is originally from Nepal and has moved to Sydney almost two years ago. She is very keen in the dental field and motivated to promote oral health and awareness to her surroundings.
She considers herself a hard woring individual with a desire to help people so the role of the dental assisting fits perfectly with her as she gets a chance to meet and help people and kids every day.
Outside work Samikshya enjoys travelling, going to the beach, spending time with her friends and family. On every other, Samikshya enjoys having a lazy afternoon and catching up on her tv shows.