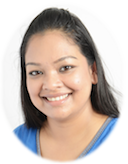 Shaila is a dental assistant in the growing Vivid Dental team. Shaila was a dentist in Bangaladesh, having studied a Bachelor of Dentistry for four years, and has since relocated to Australia with her husband and daughter.
In addition to her dentistry degree, Shaila has completed a Certificate III in Dental Assisting. She worked as a dental assistant in Lithgow for 2 years before relocating to Sydney. Shaila loves learning and continues to attend further training and education, including occupational health & safety and senior first aid qualifications.
Shaila loves working with people and is enthusiastic when meeting Vivid's new and existing clients. Outside her work and study, Shaila enjoys family life with her husband and daughter.
Look out for Shaila at your next visit – she's always very helpful and we're sure she will make your visit amazing.